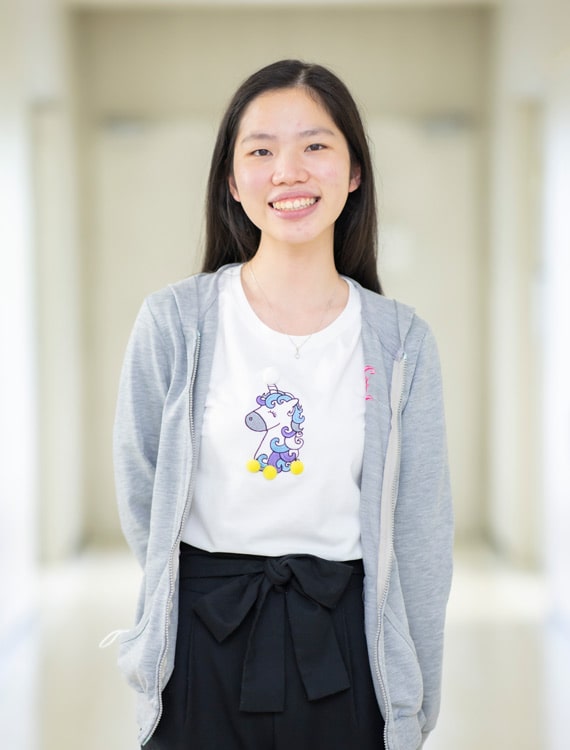 Moo さん/博士課程1年(D1)
Why did you choose Division of Biological Science at NAIST?
I was lucky to have chance of joining pre-screening programme held by Division of Biological Science, NAIST.
What do you like about Division of Biological Science at NAIST?
Well-maintained experimental equipment, clear laboratories categorization, and nice staffs.
What is your research topic?
I am trying to know more about the mechanism which enables plants to grow bigger.
How is the atmosphere in your lab?
Comfortable.
What are your goals for the future?
For a short-term goal, I hope I will complete my graduate study smoothly and get a job soon.
For a long-term goal, my journey of working in company will be enjoyable till the day I retire.
What are your recomended place to eat around NAIST?
Aeon Tomigaoka and restaurants near Gakken Tomigaoka station and Gakken Kita Ikoma station
What are your favorite places around NAIST?
Street in front of Dorm8 during spring, Susanoo-jinja shrine behind student dorms, Takayama Chikurin-en, hypermarkets, and Aeon
What are your tips for enjoying life at NAIST?
Embrace yourself with nature.
How comfortable is the dormitory?
It is worth to the fee that we pay for (about 10 thousand Japanese yen per month).
The space is enough for living alone.
However, there are many insects during summer. Some will enter my room. (Scary! I am afraid of insects.)
Some students smoke in room. (Experience of someone from other dorm)
Do you have any tips for job hunting at NAIST?
Career office always be your choice for helps and opinion seeking.
What is your motto?
Live peacefully and happily!
Please praise yourself!
I am myself. I am ordinary girl who will put lots efforts to chase after my dream.
I am proud of who I am. I am unique and so is everyone else.
(June, 2022)
※The content of this interview is current at the time of publication.