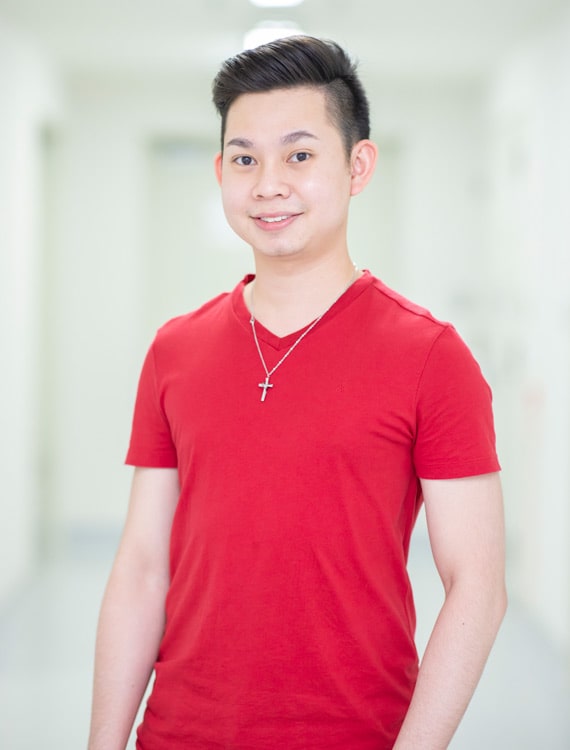 J.L. さん/博士課程2年(D2)
Why did you choose Division of Biological Science at NAIST?
I am very blessed to be on the University Recommendation scholarship due to the partnership of NAIST and my undergraduate university, USM. This memorandum or agreement has allowed me to pursue my postgraduate studies here in NAIST. Furthermore, NAIST has also been very well-known for the fascinating research that has been carried out and published in well-known journals. In order to deepen my knowledge and skills to be a qualified scientist, I have decided to come to NAIST and learn from the remarkable researchers.
What do you like about Division of Biological Science at NAIST?
I like the Division of Biological Science for the encouraging and energetic environment in the lab, especially during discussion with faculty members regarding problems faced in my experiments. The valuable experience and insights are very helpful to better the research.
What is your research topic?
I am currently working on generating an organ-deficient animal model using CRISPR-Cas9 system.
How is the atmosphere in your lab?
My communication with my lab PI is easy-going and not stressful even when experiments are not going smooth. Students are also blending well with one another and I would say it is an encouraging atmosphere to conduct research and studies.
What are your goals for the future?
I plan to be a university lecturer in the future, which will give me a chance to improve the education system in my country and to engage in future leaders of the nation. Apart from being a researcher, I also plan to take on administrative roles in university or involve myself in policy-making in education. I am definitely going down the path of being an educator.
What are your recomended place to eat around NAIST?
I especially enjoy BBQ (yakiniku) and Okonomiyaki restaurant 楽笑, both are near to Gakken-Kita-Ikoma station.
What are your favorite places around NAIST?
I usually join the badminton club as one of the sports activities to do in NAIST. I do highly recommend to join because there is a mix of Japanese and international students. This will help students to get to know more friends from different background and to foster new connections.
What are your tips for enjoying life at NAIST?
Get to know more friends and try new adventures. Do not be afraid to step out of your comfort-zone and you will be surprised what can be gained at the end of the day.
How comfortable is the dormitory?
I would say generally it is a nice and convenient place to stay especially for international student, since renting your own place can be very expensive and troublesome. I am grateful that NAIST gives a priority for international students when it comes to accommodation. Apart from being a little small in size, I find that it would be great if all rooms are fully-equipped with air-conditioning and water-heater at the sink. I understand the cost will be higher than what is being charged currently, but I think many of us would appreciate the convenience and will be willing to compromise.
What is your motto?
Work smart, play hard!
Please praise yourself!
I stand out for my confidence and my ability to communicate publicly. I am very comfortable in giving presentations and conduct discussions especially on matters of science and policy-making. I have attended several conferences throughout my undergraduate and postgraduate studies, giving oral and posters presentations, and have also won several best presenter award. I am also a dependable-team player, whereby my quality of being responsible and willing to take the extra-mile has benefitted the team. Furthermore, I am confident in my leadership and interpersonal skills. I am able to lead a team to achieve visions and goals through project organization. I have an easy-going personality and I love to get to know new friends from different background. I also pride myself in my ability to organize events to bring people together and make new connections.
Tell us about something you think that only you have experienced.
Since the age of 14, I have been volunteering myself at church activities by helping out Sunday school program in my church for kids, for more than 10 years. I am really comfortable with kids and will not feel shy when I need to perform in dramas or act as a clown, just to put on a smile on the kids' faces. I credit most of the soft-skills I have today to the team running the Sunday school program. Apart from interacting with kids, I also learn how to communicate and work together as a team, how to plan and organize a program, and most importantly how to encourage and believe in the kids as the future generations.
※The content of this interview is current at the time of publication.