Feature of NAIST Research and Education
※Data for NAIST as a whole.
A university where young researchers actively take up challenges
Ranks 2nd among all national universities
The ratio of young faculty members (under 40 years old) at 42.7% ※Average for 2017–2019
Producing world-class research results
The percentage of Top 10% academic papers is

14.8

%

※World average: 10%, 2019

The percentage of Top 10% papers in international conference papers is

23.1

%
Active top-level research in Japan
Ranked 2nd among Japanese universities
The number of conference presentations and academic papers published per faculty member: 22.07per person
※Total number of conference papers and academic articles published between 2015 and 2020, compared to domestic universities in The World University Rankings, 2019
High acquisition of external research funding among universities in Japan
Ranked

3rd

among all national universities
The number of Grants-in-Aid for Scientific Research received per faculty member:

0.869

per faculty member

※Average for 2017–2019

Ranked

6th

among all national universities
The amount of Grant-in-Aid for Scientific Research received per faculty member: approx.

480

million yen/person

※Average for 2017–2019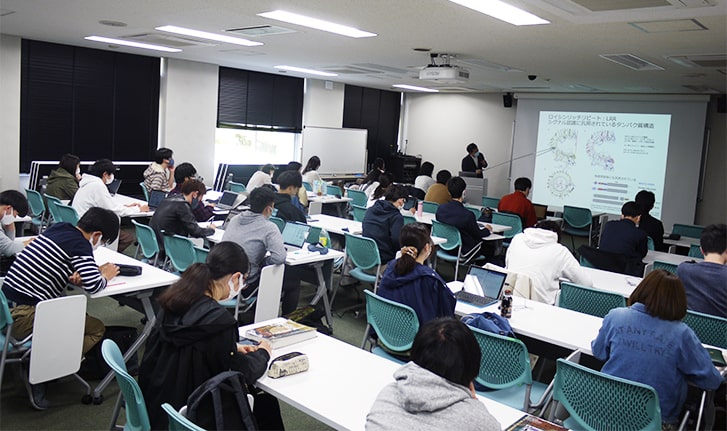 Education Programs
The following five educational programs are offered by the Graduate School of Science and Technology.
In the Division of Biological Science, it is possible to select the Program of Biological Science, Program of Data Science and Program of Digital Green-innovation.
The program will be decided after consultation with the faculty member of the laboratory to which you will be assigned after admission. For more information about our educational policy, please click here
Education Programs
Features of the class
Taking advantage of the small class sizes, we actively incorporate active learning into our classes.
We also take into consideration students who have not actively studied biology before and offer classes at different levels. You can check the syllabi or the actual classes offered.
In addition, for students entering the doctoral program, we offer classes in English, overseas dispatches, and international student workshops to help improve their English skills. One in four of all students and one in two of doctoral students are international students. Therefore, there are several international students in almost every laboratory, and even master's students can naturally acquire a high level of English proficiency in their daily research life by interacting with them. In fact, most of the students have improved their TOEIC scores upon graduation.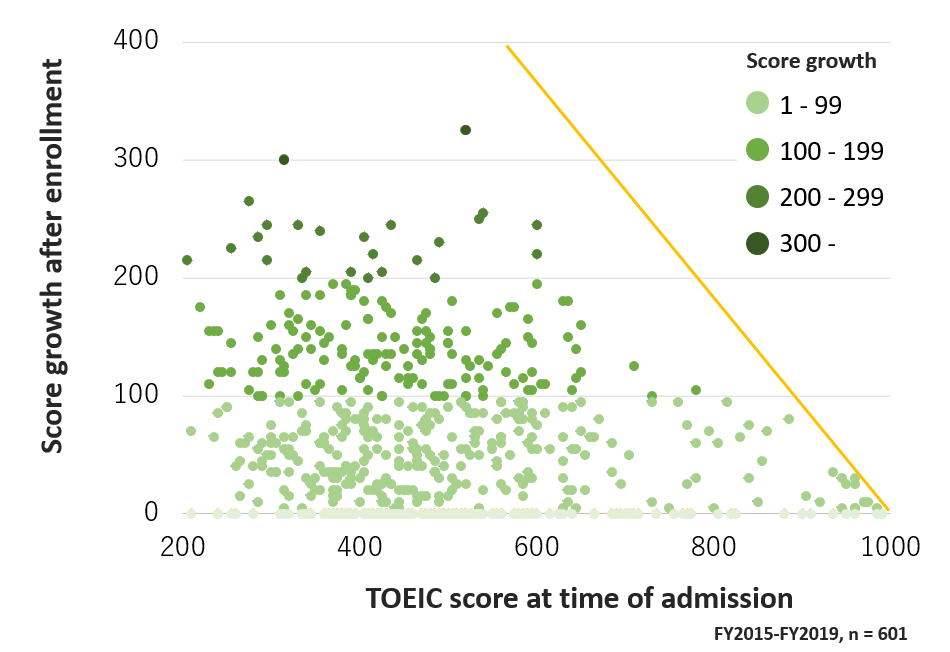 Ratio of international
bio students
%
Biological Science(2022)
%
of the laboratories(2022)
How is the atmosphere in your lab?
My atmosphere in my lab is very comfortable and international student friendly. Beside research and lab activities, our lab usually join running event organising by waist called Ekiden as well as we have our one day trip to boost up the relation and team building in our lab.
S.J.
Molecular Medicine andCell Biology
How is the atmosphere in your lab?
My communication with my lab PI is easy-going and not stressful even when experiments are not going smooth. Students are also blending well with one another and I would say it is an encouraging atmosphere to conduct research and studies.
J.L.
Organ Developmental Engineering
How is the atmosphere in your lab?
My peers at Molecular Immunobiology Laboratory have always helped provide training and assistance in research. We have enjoyed multiple occasions, and they have introduced me to various Japanese cultures through parties or casual conversations.
Afi
Molecular Immunobiology
How did you feel about the changing your research field?
It's not easy to learn a new field from scratch, but I'm able to enjoy a fulfilling research life because I'm learning what I want to learn. I also think that studying different fields was a good choice for me to gain an interdisciplinary perspective.
M.I.
Molecular Immunobiology
How did you feel about the changing your research field?
I'm glad that I can approach my own questions more easily. Several students change their research fields, so I feel quite comfortable.
H.I.
Plant Physiology
How is the atmosphere in your lab?
I think that everyone, including the staff, is easy to communicate with. There's an atmosphere where you can enjoy research activities; even starting with a small amount of data, you may find yourself having fruitful discussions that may last anywhere from minutes to several hours.
H.Y.
Gene Regulation Research