Transportation
Ikoma City, where NAIST is located, is a town located in the northwest of Nara Prefecture. The nearest station, Gakken Kita Ikoma Station on the Kintetsu Keihanna Line, is within easy reach of Osaka, Kyoto, and Kobe.
Travel time to Nara Station is 40 minutes.
Travel time to Kyoto Station is 60 minutes.
Travel time to Namba(Osaka) Station is 35 minutes.
Travel time to Sannomiya(Kobe) Station is 85 minutes.
Housing
The university provides support for student housing, university-rented housing, and private apartments. We offer a wide range of mediation services.
Student Dormitories:

Dormitories are available on campus for master's and doctoral students for the standard period of study (2 or 3 years).

UR Housing (Public Housing):

UR housing is provided by Urban Renaissance Agency. NAIST has a contract with UR where reikin(key money)and guarantors are not required when signing contracts, and rent is reduced by 10%. Rent varies with size and location, but it is about JPY 35,000 - 60,000 per month.

Private Housing:

We offer a wide range of mediation services.
Medical Treatment
The Health Care Center is responsible for supporting and providing medical assistance to students. It provides health examinations and gives daily health guidance. We have medical equipment and are able to prescribe medicine if necessary.At the Health Care Center, you can receive professional consultations on health related issues. You may also seek counseling with a professional counselor for international students to discuss various issues about research life and private issues. English Medical Interview Sheets are available at the Health Care Center.
General hospitals are within a 30-minute drive from campus.
You should bring a letter of referral from a doctor at the Health Care Center.
If you cannot contact the Health Care Center doctor or nurse, go directly to the hospital without a referral letter.
If you need to see a doctor at night or on a holiday, call one of the following hospitals, and tell them the institute name (NAIST) to consult doctors.
Get a referral letter from a doctor at the Health Care Center concerning orthopedics, dermatology, ophthalmology, otorhinolaryngology, gynecology, dentistry and others. Refer to brochures at the Health Care Center.
Other websites
Sightseeing
It takes 30 minutes by car or 75 minutes by train to reach Todaiji Temple, which is famous for the Great Buddha of Nara, and 40 minutes by car or 90 minutes by train to reach Horyuji Temple, where you can experience the culture of the ancient capital Nara during your holidays.
Banking
 Banks in Japan are open 9:00 - 15:00 on weekdays, and closed weekends and holidays. (Japan Post Bank is open to 16:00 or later at some branches.) However, domestic withdrawals or bank transfers may be made at ATMs after office hours with an ATM card. Banks offer currency exchange services, but not in all branches.
Please check the list of banks near NAIST.
Japan Post Bank(Ikoma branch) Currency Exchange: Yes
Nanto Bank(Tomigaoka branch) Currency Exchange: Yes
Nanto Bank(Mayumi branch) Currency Exchange: No
Nanto Bank(Shiraniwadai-ekimae branch) Currency Exchange: Yes
In Japan, ATMs are often located at banks, airports, convenience stores, train stations, shopping malls, etc. You can use a cash card or credit card to withdraw money.
ATM hours, fees and accepted cards differ greatly so please check various information before use.
Around NAIST, ATMs can be found at the Lawson convenience store in front of the Gakken KitaIkoma Station and the 7-Eleven convenience store close to Gakken Nara-Tomigaoka Station. Also, various ATMs are located in the Tomigaoka Aeon Mall.
Financial Support
For more information about financial aid, please check the headquarters website.
Support for Daily Life
Center for International Students and Scholars(CISS):

The Center for International Students and Scholars (CISS) is here to ease and enhance living, studying and working in Japan for NAIST students, scholars and their spouses and families. While the International Student Affairs and the International Affairs Sections will facilitate your studies with administrative support, CISS is here to support your daily lives with the hope that you may fully enjoy the time you spend here.

International Student Ambassador Program:

The NAIST International Student Ambassador Program was started in order to offer additional support to international students who are pursuing studies at NAIST. This is a peer-advising program where interested students can talk with peer advisers, participating senior students, to discuss their studies or life at NAIST and receive advice from these 'Ambassadors' who may have already experienced similar situations or feelings during their time here.

Tutors:

For newly arrived international students, a tutor will be assigned to support you. Tutors are chosen among your laboratory members and give academic and daily support for you to get used to your new research environment smoothly.

Studying Japanese:

There are support to improve their Japanese communication skills.
Student Exchange Programs
NAIST Tea Time:

This event is held to expand our on-campus community and foster increased mutual understanding among NAIST's diverse population and the community through presentations over refreshments from around the world.

International Friendship Meeting:

Since 1995, this free event is held annually to bring together our international students, researchers from abroad, the president and executives, faculty, staff, tutors, external international exchange organization members, and more. Nearly 300 people, including international students'family members, participate every year. Featuring student performances, bingo, etc., the meeting is always very lively.

Excursions for International Students:

Through exposure to Japanese culture and history, international students can deepen their understanding as well as develop ties among themselves. With these two goals in mind, we offer international students the opportunity to go on one day excursions together twice a year.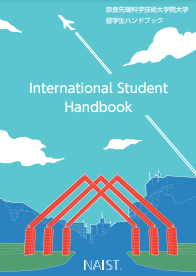 You can find more detailed information about life at NAIST in "International Student Handbook". Please refer to it.