Research outcomes
Dr. Berry Juliandi, NAIST alumni from Bogor Agricultural University Indonesia, has been selected as a Kavli Frontier of Science Fellows by the U.S. National Academy of Sciences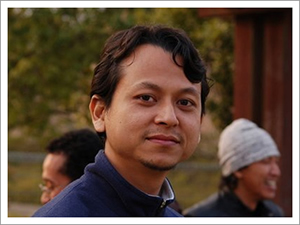 Dr. Berry Juliandi
Dr. Berry Juliandi, an alumni and JSPS Research Fellow from Laboratory of Molecular Neuroscience(Kinichi Nakashima's Lab), Graduate School of Biological Sciences, has been selected as a Kavli Frontiers of Science Fellow by the U.S. National Academy of Sciences (NAS). Fellows are selected from among recipients of prestigious fellowships, awards, and other honors, as well as from nominations by NAS members and other participants. Since its inception in 1989, 136 program "alumni" have been elected to the NAS and eight have won Nobel Prizes.
The NAS's Kavli Frontiers of Science symposia are jointly sponsored by The Kavli Foundation. It brings together outstanding young scientists (under age 45) to discuss exciting advances and opportunities in a broad range of disciplines. The format encourages both one-on-one conversations and informal group discussions in which young participants continue to communicate about insights gained from formal presentations and the excitement of learning about cutting-edge research in other fields. By doing so, Frontiers helps to remove communication barriers between fields and encourages collaborations among some of the world's best and brightest young scientists. Annual Kavli Frontiers symposia are held for young scientists in the U.S. and bilateral symposia have included young researchers in the U.K., Germany, France, Japan, China, Indonesia, and India.
Dr. Berry Juliandi will present his work in Nakashima's Lab about the regulation of neural stem cells by a histone deacetylase inhibitor, valproic acid, in the 2nd Indonesian-American Kavli Frontiers of Science symposia which will be held from 12th -15th of July 2012 at Solo, Indonesia.
NAS Frontiers website (http://www.nasonline.org/programs/kavli-frontiers-of-science/about.html)
Kavli Foundation website (http://www.kavlifoundation.org/kavli-frontiers-science)
( July 13, 2012 )

---