Message from Director
Great Opportunities to Study Cutting-Edge Bioscience in Japan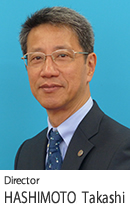 Nara Institute of Science and Technology (NAIST) is a compact graduate school located near an old capital of Japan, Nara. The institute was founded as a national university and is now categorized as a national university corporation supported by the Japanese government. The institute is committed to fulfilling its social and academic responsibility by conducting advanced scientific research, and fostering new talent at the cutting-edge of biological, information and material sciences.
In the Division of Biological Science, we focus our research and education on molecular and cell biology, as well as other modern biology-related sciences, and are grouped in three fields: Plant Science, Medical Biology, and Integrated Systems Biology. With the financial support from the Ministry of Education, Culture, Sports, Science and Technology (MEXT) of Japan and other grant sources, we are routinely updating our state-of-the-art facilities and provide the best opportunities for graduate education and research both in basic and applied sciences. Currently, the research topics of our labs include; molecular biology, molecular genetics, cell biology, developmental biology, metabolism, physiology, cell signaling, stress responses, host-microbe interaction, immunology, neuroscience, RNA biology, cell and organ engineering, structural biology, systems biology, and computational biology. The experimental organisms range from model species to more practical ones, and cover diverse microorganisms, green algae, various plants (including crops and trees) and several animal models (including fish, fly, and mammals). Browse our website to see whether you can find labs that match your interests.
Our Bioscience Division has only a short history of about 25 years, but it has already acquired a reputation for one of the highest research institutes in Japan. You can find the list of our outstanding publications in our website. We especially welcome highly motivated foreign students who wish to study advanced biosciences for the Ph. D degree. We have signed academic exchange agreements with several leading universities in Asian counties, and are recruiting highly capable students from these partner universities. Now, more than half of our doctor-course students are from these Asian countries. We provide good environment in the lab and in the campus to support your daily life.
Pick our Bioscience Division at NAIST for your graduate study. We look forward to working with you at NAIST.