In addition to basic knowledge questions, we ask some questions along the essays submitted on your application. For English examination, you are supposed to submit an external test score, such as TOEIC. We set no expiration date or minimum score of TOEIC or other test scores.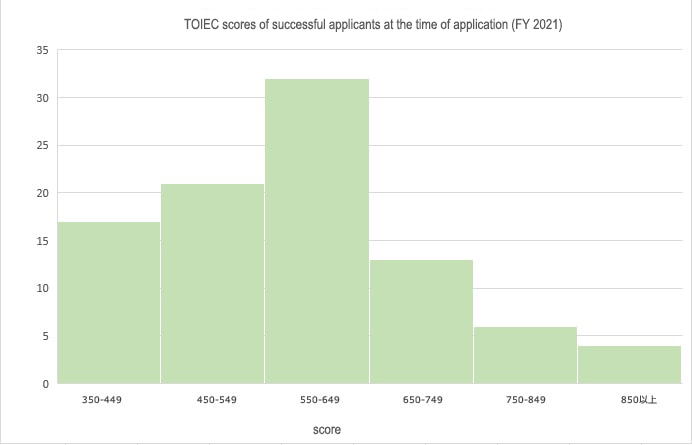 No. We accept students from various fields of study, regardless of their undergraduate major. In the entrance examination, you will not be disadvantaged because of your undergraduate educational background. In the interview, please briefly explain the important points about your research (background, purpose and significance, methods, results and expected outcomes, prospects, etc.) so that people outside your major (especially bioscience majors) can understand. We will also ask you about your basic knowledge of bioscience, to see your motivation and preparation for graduate studies.
The Division of Bioscience area has accepted students from a variety of fields in the past. The curriculum offers lectures and practical subjects that are suitable for those from other fields. For example, lectures such as Basic Subjects and Introduction (those names are subject to change) review basic knowledge at the undergraduate level. In addition to biology-related fields such as agriculture, bioengineering, and medical science, students from diverse fields such as natural product chemistry, mechanical engineering, electrical engineering, and even law have successfully completed their studies at our university, and have obtained new jobs in a variety of fields.
Please write about the research field(s) or subject(s) that you would like to work on if you are admitted to our university. (See our websites for the ongoing researches.) Please explain the circumstances and reasons that led you to the conclusions. If your entrance exam scores are outstanding, you are given the privilege for "priority laboratory assignment" at the time of the acceptance. In this case, as well as in the formal laboratory assignment after the enrollment, you may consider all labs for your selection, regardless of the lab(s) you mention in the essay.
If you have any queries on how to write this essay, you may consult with a professor(s) from the laboratory of your interest or with "Ask Admission Counselors". We will also explain some tips for the entrance examination preparation at the student recruitment briefing. Please refer to them.
The interview will be based on the two essays submitted ("What you have studied so far" and "What research field or subject you would like to work on at our university"). It is important that you have a good understanding of the background and objectives (what is known and what are the important issues), methods (principles and validity), expected results and their interpretation, and expected results when the research is completed. Based on the contents of your essay and discussions during the interview, we will evaluate your ability to explain and discuss things scientifically, your motivation and enthusiasm for biological sciences and your potential for growth after entering our university.
In the master's program, students take English classes according to their level of proficiency. We also have an online continuous self-study English system that students can access at any time. In the doctoral program, there are several opportunities to give presentations in English and to receive individual guidance from foreign faculty members. We conduct TOEIC examinations on a regular basis to continuously check the English proficiency of our students. There are many international students from various countries, and you can improve your practical English skills by interacting with them. In addition, if you advance to the doctoral course, all D1 students spend several weeks overseas for practical training at the university's expense (credit is granted). Depending on your preference and TOEIC score, either a research-based lab stay or English training at a language school will be arranged.
Japanese language classes for international students are offered as part of the master's program curriculum. In addition to the classes, supplementary Japanese language classes are offered by volunteer groups. Classes are held twice a week on our campus with six class levels ranging from beginner to advanced.
The entrance examination for the master's program is held three times a year, in July, October, and March for spring enrollment, and twice a year, in March and July for fall enrollment.
No. As a general rule, the same criteria apply to all the examinations of the year. However, in the third (March) examination, it is unlikely that you will be admitted to a student dormitory room from April, no matter how excellent your score is. In this case, you may need to wait until a room becomes available. It is also possible that the priority assignment slots (offered to the applicants of outstanding scores) are fulfilled in some labs in the 1st examination (July).
As a general rule, no. However, some examples are seen on our university webpage for the entrance examination. Please refer to it.
You do not need to be dressed in formal attire, and your appearance will not be evaluated. Please use common sense and dress comfortably for the exam.
Yes. We actively accept students who have completed or will complete their master's degree at other universities.
Not at all. We have been actively accepting those who are currently employed. In fact, many of our ex-students with previous work experience have obtained degrees and then new jobs in universities, research institutions, and companies. Or, you may also study at our university while you are employed. (In this case, please contact and agree with the laboratory of your interest in advance for consultation.)
First of all, we think it is important to strive to be an ideal researcher by firmly holding on to your beliefs, regardless of what is going on around you. Today, when every aspect of our daily lives is deeply intertwined with scientific research and technology, it is essential to consider the relationship with society, even in order to promote basic research. In the Division of Bioscience, we also offer courses to study the state of science in society and to learn the significance and skills of communication with society. We encourage the development of diverse human resources that will support a scientific and technological society.
Yes. There is a student dormitory on the campus that can accommodate a significant proportion (about a half) of the student population. We can accommodate the dormitory to the doctoral course students and international students if they wish. For students in the master's course, priority is given to those with outstanding entrance examination results.
The TA and RA systems are available to provide financial support in exchange for assistance with lectures and research activities. The work of TA and RA is not too much of a burden on your own research and study. In the doctoral course, financial support is further enhanced with exemption of tuition (D1) and increased TA and RA support. We also have our university fellowships on-campus, which are given to students with outstanding results. We also support students to apply for off-campus fellowships, such as JSPS Research Fellowships.
After earning a master's degree, students are employed by a variety of companies and are active in their fields. Doctoral graduates are also active in a wide variety of companies and are employed as acadmics and researchers at both our university and other universities in Japan and overseas. Many of them work for bioscience-related research and development companies, but others work for companies in other fields (information, engineering, chemistry, etc.). Many companies are aiming to advance into different fields, and it is no longer the case that a certain field or laboratory is advantageous for going into a certain field or joining a particular company. Regardless of the type of research you are engaged in, it is important to make efforts to improve your abilities and broaden your horizons on a daily basis. Of particular note, the percentage of graduates of the doctoral course who are employed in research and development positions has increased dramatically. For more information, please refer to the comments of our graduates at our university webpage.