Events & News
The 18th Bio Summer Camp was held on August 24th-26th
The 18th Bio Summer Camp was held on August 24th-26th online. The Summer Camp is an annual graduate program event that aims to facilitate students' research progress through discussions with their advisors and others, and to promote their presentation and communication skills in English.
We were planning to hold this year's summer camp on site, but due to the spread of COVID-19, it was held entirely online same as last year.
More than 170 participants including 60 D1 and D2 students, 14 M2 students who intend to proceed to the doctoral course, and 42 faculty members and several external reviewers participated this year. Each D2 student was given a 20-minute oral presentation slot including Q&A. Thanks to the individual lessons given by our English teachers at each appropriate level, the students' presentations were at high quality as if it was an actual international conference. Every student had a great experience. For the adviser hearings, D2 students had active discussions with their advisors about research progresses for 45 minutes. Also, at the oral sessions, the students not only gave talks but also served as chairpersons, and they had active discussions in English during the Q&A sessions.
D1 students gave a 90-second short introduction about their posters prior to their poster presentations. Some students looked nervous, but they tried to attract the audience by presenting a well-organized summary of their research. D1 and M2 students presented their research results at the poster sessions while many students and professors from within or outside of their research field engaged in the active discussions. The online event made it easy for the working students and other members of laboratory to join, and the lively atmosphere motivated the juniors.
In Fall, D2 students will participate in the International Workshop co-organized with the University of California and the Chinese Academy of Sciences. We look forward to seeing our D2 students further honing their communication skills.
In addition, Best Presentation Award was introduced from this year to be given to the students who made the best oral presentation. The presenters were voted by students and faculty who attended the summer camp based on their slides, speaking style, and Q&A, and three presenters among them were awarded certificates and QUO cards as the best presenter.
The success of Summer Camp this year again was a good opportunity to recognize that the students are achieving key goals in the Biological Science graduate program.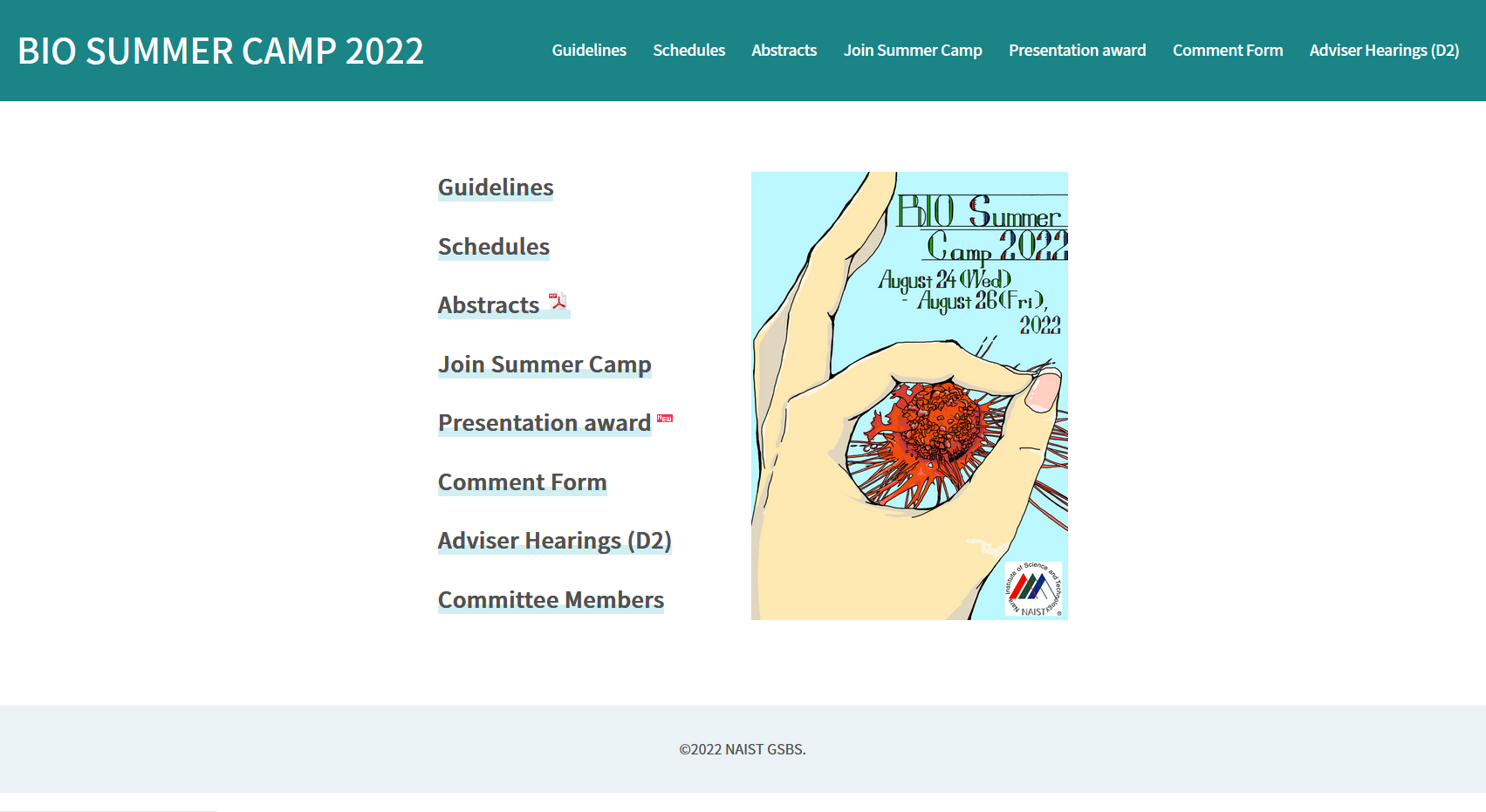 (August 30, 2022)

---