Events & News
The 16th Umesono Prize Award Ceremony was held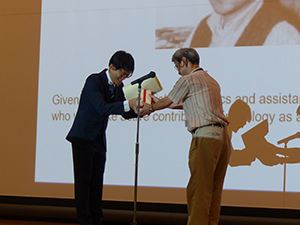 Assistant Professor Nobutoshi Yamaguchi (Laboratory of Plant Stem Cell Regulation and Floral Patterning) receives the 16th Umesono Prize
The 16th Umesono award ceremony was held on August 22nd as part of Bio Summer Camp 2019. Dr. Yamaguchi delivered a lecture in English to the audience including NAIST students and professors as well as external attendees invited to the summer camp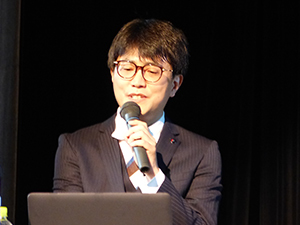 The Umesono Prize has been awarded annually since 2004 to young researchers in Graduate School (Division) of Biological Sciences at NAIST who significantly contributed to biological sciences during his/her years at the institute. The prize is awarded to young researchers with a bright future to follow in the footprints of Dr. Umesono, who enriched us with his personal and intellectual generosity. His spirit continues to inspire us and light our way. The award is mainly based on the originality and academic value of a paper which the awardee wrote as a first author.
Comments by Asst. Prof. Yamaguchi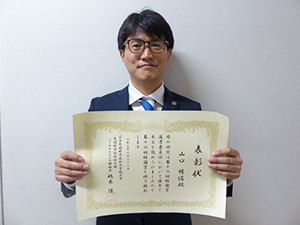 The Umesono Prize is one of the greatest honors for junior researchers. I am delighted to be recognized as this year's recipient. Since 2015 when I joined NAIST, I have engaged in this research project that turned out to be two of my first-authored articles. One of the articles published in 2018 led me to receive the Umesono Prize. Such accomplishments were made possible not only by my own efforts, but also through tremendous support from many of my collaborating colleagues. Major acknowledgement goes to Professor Ito and our team (students and technicians). I am also grateful to my collaborators.
Research Title
Floral meristem termination in Arabidopsis
In flowering plants, the switch from floral stem cell maintenance to gynoecium (female structure) formation is a critical developmental transition for reproductive success. In Arabidopsis thaliana, AGAMOUS (AG) terminates floral stem cell activities to trigger this transition. Although CRABS CLAW (CRC) is a direct target of AG, previous research has not identified any common targets. Here, we identified an auxin synthesis gene, YUCCA4 (YUC4) as a common direct target. Ectopic YUC4 expression partially rescues the indeterminate phenotype and cell wall defects that are caused by the crc mutation. The feed-forward YUC4 activation by AG and CRC directs a precise change in chromatin state for the shift from floral stem cell maintenance to gynoecium formation. We also showed that two auxin-related direct CRC targets, YUC4 and TORNADO2, cooperatively contribute to the termination of floral stem cell maintenance. This finding provides new insight into the CRC-mediated auxin homeostasis regulation for proper gynoecium formation.
(September 17, 2019)

---